Episodes
Friday May 12, 2023
Friday May 12, 2023
THIS WEEK ON THE 4:30 MOVIE, we celebrate MOTHER'S DAY with "MOVIES NOT TO WATCH WITH YOUR MOTHER WEEK." This is a week of great films you don't want to watch with mom on Mother's Day... or any other day, for that matter. Even The Hunger. Don't miss a tribute to movies and mom's on an all-new 4:30 Movie Theme Week. #MothersDay
All your favorite 4:30 Movie hosts are back to mix it up for an all-new fantasy theme week including MARK A. ALTMAN (showrunner, PANDORA, author, THE FIFTY-YEAR MISSION, THEY SHOULDN'T HAVE KILLED HIS DOG, writer/producer FREE ENTERPRISE), STEVEN MELCHING (writer,  BATMAN: THE BRAVE & THE BOLD, THE CLONE WARS, STAR WARS REBELS), ASHLEY E. MILLER (showrunner; DOTA: DRAGON'S BLOOD; writer, THOR, X-MEN: FIRST CLASS, BLACK SAILS, FRINGE) and DAREN R. DOCHTERMAN (concept designer; WESTWORLD, MASTER & COMMANDER, PICARD; associate producer, STAR TREK: THE MOTION PICTURE - DIRECTOR'S EDITION). 
** Don't miss our SEASON FINALE next week wherever you listen to podcasts!**
You can follow THE 4:30 MOVIE on social media at:
Twitter: @430moviepodcast
Instagram: @the430movie
Facebook: Facebook.com/430movie  
 ***Mark A. Altman & Edward Gross's bestselling oral history of James Bond, NOBODY DOES IT BETTER, is now available in paperback from Tor/Forge as well as hardcover, digital and audio. And don't miss SECRETS OF THIS FORCE, the uncensored oral history of Star Wars, now out from St. Martin's Press in hardcover, digital and audio. Available now wherever you buy your books. And coming this summer, THEY SHOULDN'T HAVE KILLED HIS DOG: THE COMPLETE, UNCENSORED ASS-KICKING ORAL HISTORY OF JOHN WICK, GUN-FU AND THE NEW AGE OF ACTION.***
And if you're a STAR TREK fan, don't miss our hit podcast, INGLORIOUS TREKSPERTS. For more information or to subscribe go to trekspertsplus.com.
SUBSCRIBE and RATE All Our Treksperts Podcast Network Shows Today!
TUESDAY: Treksperts Briefing Room w/ Lisa & Peter (bi-weekly)
WEDNESDAY: Deck 78 (bi-weekly)
THURSDAY: Inglorious Treksperts w/ Mark, Daren & Ashley
FRIDAY: The 4:30 Movie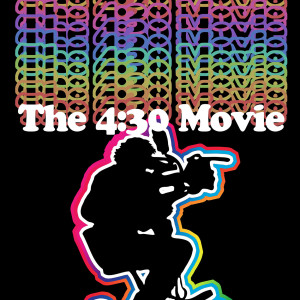 Friday Nov 30, 2018
Friday Nov 30, 2018
THIS WEEK ON THE 4:30 MOVIE, IT'S "YOU DIRTY RAT - GANGSTER WEEK" ON THE 4:30 MOVIE as our panel of expert programmers curate a fantasy week of classic gangster movies featuring MARK A. ALTMAN (The Librarians, Agent X), STEVEN MELCHING (Star Wars Rebels, X-Men: The Animated Series), ASHLEY E. MILLER (Lore, Black Sails) and DAREN DOCHTERMAN. New episodes are available every Friday and you can follow us at @430moviepodcast on Twitter and at The 4:30 Movie on You Tube. Also, don't miss our fantastic 430 Movie logo wear for the holidays at 430movie.com. We'll make you an offer you can't refuse... 
Plus: don't forget to check out our sister podcasts, INGLORIOUS TREKSPERTS, about all things Star Trek available every Sunday and DISCO NIGHTS, a Star Trek Discovery podcast with host Chase Masterson available every Thursday. #startrek.