Episodes
Friday Mar 18, 2022
Friday Mar 18, 2022
HOLY PODCAST, BATMAN! THIS WEEK ON THE 4:30 MOVIE, it's "SAME BAT TIME, SAME BAT CHANNEL WEEK" as we return to curate a fantasy theme week of classic Batman films celebrating the blockbuster release of the sensational new film, The Batman.  Get ready for a week that's of Dark Knight detecting that's going to leave you bellowing Begora. 
As always, your favorite co-hosts (and caped crusaders) are back including MARK A. ALTMAN (showrunner, PANDORA, author, THE SECRETS OF THE FORCE, THE FIFTY-YEAR MISSION), STEVEN MELCHING (writer, MAGIC: THE GATHERING, THE CLONE WARS, REBELS), ASHLEY E. MILLER (showrunner; DOTA: DRAGON'S BLOOD; writer, THOR, X-MEN: FIRST CLASS) and DAREN R. DOCHTERMAN (concept designer; WESTWORLD, MASTER & COMMANDER).  
NEXT EPISODE: It's BELOW-THE-OSCAR WEEK as we pay tribute to the below-the-line artisans that the Academy won't as we celebrate some of the greatest Academy Award nominees in sound, editing, composing and production design. So iron your tux and get ready for another fantastic fantasy theme week from The 4:30 Movie. 
You can follow THE 4:30 MOVIE on social media at:
Twitter: @430moviepodcast
Instagram: @the430movie
Facebook: Facebook.com/430movie &
Facebook.com/ElectricSurge
**Now, you can watch THE 4:30 MOVIE and all your favorite Electric Surge podcasts on the free Electric Now! video streaming app available for download at your favorite app store including INGLORIOUS TREKSPERTS, THE BEST MOVIES NEVER MADE and CARTOON BARROOM. Plus: don't miss the all-new LEVERAGE: REDEMPTION AFTER SHOW exclusively on the Electric Now app.
***Mark A. Altman & Edward Gross's bestselling oral history of James Bond, NOBODY DOES IT BETTER, is now available in paperback from Tor/Forge as well as hardcover, digital and audio. And don't miss SECRETS OF THIS FORCE, the uncensored oral history of Star Wars, now out from St. Martin's Press in hardcover, digital and audio. Available now wherever you buy your books. And coming this summer, THEY SHOULDN'T HAVE KILLED HIS DOG: THE COMPLETE, UNCENSORED ASS-KICKING ORAL HISTORY OF JOHN WICK, GUN-FU AND THE NEW AGE OF ACTION.***
#Batman #TheBatman #DarkKnight
NOTE TO LISTENERS: Due to the pandemic, we are recording remotely via Zoom and not in the studio so the audio may not be up to our usual high standards. We trust you will nursemaid us through these difficulties. Stay safe, stay healthy, get vaccinated... and support cinemas everywhere!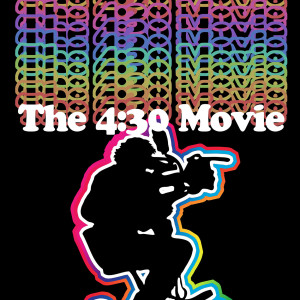 Friday Feb 01, 2019
Friday Feb 01, 2019
THIS WEEK ON THE 4:30 MOVIE, IT'S "HITCHCOCK WEEK." Good evening and welcome to a week celebrating the Master of Suspense as our expert programmers curate a fantastic week of Alfred Hitchcock classics. Join MARK A. ALTMAN (The Librarians, Agent X), STEVEN MELCHING (Star Wars Rebels, X-Men: The Animated Series), ASHLEY E. MILLER (Thor, X-Men: First Class) and DAREN DOCHTERMAN (Master & Commander, The Chronicles of Riddick) as they cry mother and head north by northwest in search of the perfect week of Hitch from the perfect vantage point of the studio's rear window. Don't fly the coop, join us for an episode that's definitely not for the birds. 430movie.com.
Twitter: @430moviepodcasts
Facebook: facebook.com/430movie
You Tube: The 4:30 Movie