Episodes
Friday Sep 29, 2023
Friday Sep 29, 2023
THIS WEEK ON THE 4:30 MOVIE, while you're waiting for the SEVENTH SEASON PREMIERE later this year, join us for an all-new 4:30 MOVIE as we look back four decades at the moviegoing year of 1983. Join us as we program an all-new fantasy theme week of films from 1983 and join us this December as we return for our new season. Also: join us for our bi-weekly bonus podcasts, DECK 78, by subscribing on Apple Podcasts today.   
Now join all your favorite 4:30 Movie hosts for an all-new fantasy theme week including MARK A. ALTMAN (showrunner, PANDORA, author, THE FIFTY-YEAR MISSION, THEY SHOULDN'T HAVE KILLED HIS DOG, writer/producer FREE ENTERPRISE), STEVEN MELCHING (writer,  BATMAN: THE BRAVE & THE BOLD, THE CLONE WARS, STAR WARS REBELS), ASHLEY E. MILLER (showrunner; DOTA: DRAGON'S BLOOD; writer, THOR, X-MEN: FIRST CLASS, BLACK SAILS, FRINGE) and DAREN R. DOCHTERMAN (concept designer; WESTWORLD, MASTER & COMMANDER, PICARD; associate producer, STAR TREK: THE MOTION PICTURE - DIRECTOR'S EDITION). 
You can follow THE 4:30 MOVIE on social media at:
Twitter: @430moviepodcast
Instagram: @the430movie
Facebook: Facebook.com/430movie  
 ***Mark A. Altman & Edward Gross's bestselling oral history of James Bond, NOBODY DOES IT BETTER, is now available in paperback from Tor/Forge as well as hardcover, digital and audio. And don't miss THEY SHOULDN'T HAVE KILLED HIS DOG: THE COMPLETE, UNCENSORED ASS-KICKING ORAL HISTORY OF JOHN WICK, GUN-FU AND THE NEW AGE OF ACTION.***
Friday Aug 31, 2018
Friday Aug 31, 2018
It's a SPECIAL REPORT this week on THE 4:30 MOVIE as we examine the incredible rise and fall of home video from the dawn of the VHS era to laserdiscs, DVD, Blu-Ray and 4K UHD. Share our memories of growing up at the dawn of the home video, road trips to laserdisc sales, the emergence of DVD and more with Mark A. Altman (writer/producer;; The Librarians, Agent X), Steve Melching (writer; The Clone Wars, Rebels), Ashley E. Miller (writer; Red Sonja, Lore, Fringe) and Daren Dochterman (conceptual illustrator; Westworld, Real Steel). A 4:30 MOVIE SPECIAL REPORT.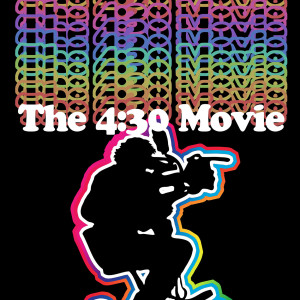 Tuesday Jul 17, 2018
Tuesday Jul 17, 2018
Ep. 102: "Geeks Of A Certain Age." Our panel of professional geeksperts returns to discuss the latest in a galaxy, far, far, away as they attempt to prognistcate on the future of the Star Wars universe as well as dissect the underperformance of Solo. Also: an appreciation of the Movies of 1968 including Planet of the Apes, Rosemary's Baby and 2001. Plus: what we're reading and watching. Featuring writer/producer Mark A. Altman (The Librarians, Agent X), screenwriter Ashley E. Miller (Thor, X-Men: First Class), writer Steven Melching (Star Wars Rebels, The Clone Wars) and conceptual artist Daren Dochterman (Westworld, ST: TMP Director's Edition).